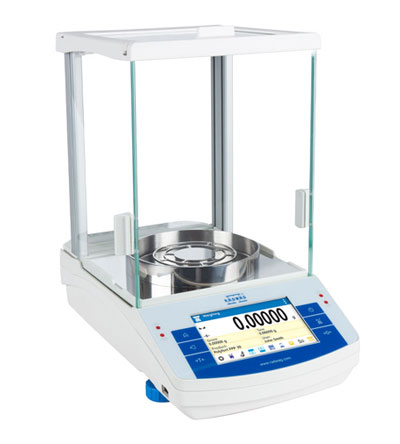 Balance of the AS X2 PLUS series is an advanced analytical weighing device of the SYNERGY LAB line. The AS X2 PLUS is exceptional due to a range of modern constructional and system solutions that guarantee reliability, precision and accuracy of measurement, and make everyday operation easy.
Ergonomic Mechanical Design
The latest AS X2 PLUS analytical balance features spacious weighing chamber, and the open-door clearance facilitates easy access to the weighing pan. With this it is possible to use laboratory glassware of various sizes. New aluminium base is a guarantee for weighing system stability.
Dual-CLICK system allows tool-free assembly and disassembly of the weighing chamber, and a special design of guides for weighing chamber panes (no rims) makes keeping the device clean convenient.
Innovative construction solutions increase balance durability and reliability in long-term operation.
LevelSENSING System
The in-built sensors measure tilt, and display graphic message on the weighing device screen. In accordance with GLP and GMP, the LevelSENSING system simplifies the adjustment, ensures an ongoing control of the level and informs about deviations.
Levelling operation is now simplified and easier due to the reduced quantity of adjustable supporting points (2 points).
Internal Adjustment
Modernized internal adjustment system guarantees accurate indications in extremely unfavourable conditions.
Colour Touch Screen
The latest generation touch panel of 5" diagonal stands for comfort of operation, even when you have laboratory gloves on.
The AS X2 PLUS analytical balances guarantee simple and intuitive communication due to wide selection of widgets. The widgets can be freely configured in accordance with user needs.
Screen customization favours access to information and results directly from the home screen. The user can configure a complete set of buttons and assign it to a particular operation mode. He(she) can also define info and text fields.
SMARTLab
AS X2 PLUS balances are equipped with a SMARTLab system of an extensive functionality. It ensures support and supervision over the mass measurement process and reduces hazard of error caused by so called "human factor":
Regardless of external ambient conditions, the automatic internal adjustment system guarantees 100% efficiency in eliminating balance sensitivity deviations.
Data safety is assured with the ALIBI memory, which is integrated into AS X2 PLUS balances. The memory enables record of up to 500 000 weighings and guarantees continuity of data collection over a long period of time.
Accessing information in the balance depends on the user's permission level. The administrator can manage three different permission levels.
Touch-free operation and programmable sensors facilitate daily work and reduce the range of actions performed during the weighing procedure.
Automatic Weighing Records
Reports on processes and partial weighings can be generated and sent for archiving via the USB to external devices.
Remote control of the balance via devices, operation of which is based on Android, IPhone, Windows10 systems.
Ambient Conditions Monitoring
Communication with RADWAG thermo-hygro-barometer allows monitoring of ambient conditions such as temperature and atmospheric humidity.
Databases
Information system of the AS X2 PLUS balances is based on 7 databases that enable operation of many users with numerous products, all the stored data can be subjected to analysis. Weighing data is recorded in 7 databases:
Operators (max 100 entries),
Products (max 5 000 entries),
Weighings (max 50 000 entries),
Packaging (max 100 entries)
Formulations (max 100 entries),
Customers (max 1000 entries),
ALIBI memory (max 512 000 weighings).
Additionally it is possible to create formulation reports (max 500 reports).
Communication Interfaces
The functionality of AS X2 PLUS balances can be expanded using the following communication interfaces: USB-A, USB-B, RS 232, DB9 tara/print, Ethernet, Wi-Fi®. The additional USB port located on the front of the balance enables easy and fast communication with the USB flash drive, it is possible to  connect additional devices via this port too.
AS PLUS balances are equipped with Kensington Lock, which allows to secure the device against theft.
Under-pan weighing
Under-pan weighing will only be possible on balances that are equipped with this function in the production process. The need for such (extra-paid) functionality should be reported at the time of placing the order.
Bilance analitiche XA 52.5Y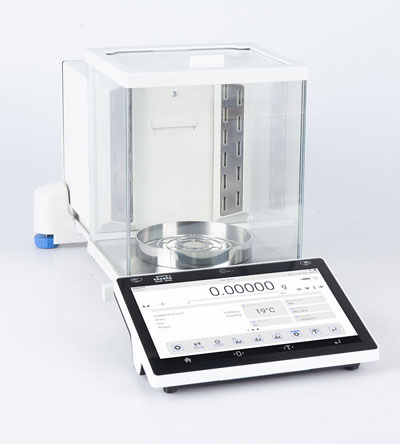 4Y PLUS Balances (Reflex Level System, Smart Min Weight, Integrated Ionizer, Two-Point Adjustment and Much More) – You Have It Already.
With ELLIPSIS Balances, You Have the Same and More:
Digital Weighing Auditor
Ensures that your balance is ready for use. It enables air buoyancy compensation in real-time. What is more, it informs about the need for a balance inspection or a periodic audit of the balance's accuracy and sensitivity.
10-Inch Display
Bigger screen – 10'' – means more information in one place. On the new ELLIPSIS terminal, you will see up to 3 screens, widgets, graphs, statuses, notes, handy measurement history.
Uncompromising User Verification
For the first time ever, the balance will verify the user using a password, RFID card, fingerprint reader, facial recognition mechanism, or any combination of these.
Ambient Light – An Innovative Way for the Balance to Communicate With the User
The light colour will tell you about status, process results, procedures, or alerts.
Hotspot
Use the balance on any device connected to it. This can be a smartphone, tablet, or computer.
RFID
ELLIPSIS works with RFID tags* that can be used to tag your products or formulation ingredients in the database. They can also be used to identify a user.
Live Note – Note Down Your Conclusions
It's the first time you can add a voice memo to a measurement series or procedure report. If you prefer to write it down, ELLIPSIS allows you to add a text note.
Handy Library
This is where a series of recent measurements or a report ready for digital signature, according to 21 CFR Part 11, can be found.
Widgets
Prepared to display what you need most at any given moment.
Under-pan weighing
Under-pan weighing will only be possible on balances that are equipped with this function in the production process. The need for such (extra-paid) functionality should be reported at the time of placing the order.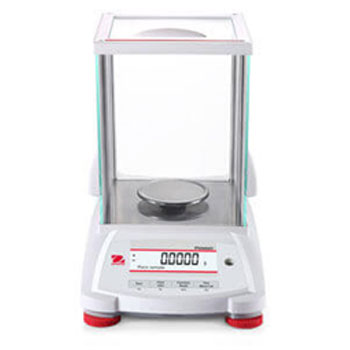 Bilancia conveniente per risultati affidabili
La Pioneer PX unisce le funzionalità di pesata di base a prestazioni competitive, offrendo elevate accuratezza e ripetibilità per applicazioni in ambienti di laboratorio, industriali e didattici. La PX ha un prezzo accessibile ed è progettata intuitivamente per un funzionamento intelligente, con un display a 2 linee per fornire informazioni aggiuntive e interfacce USB e RS232 per una facile connessione di comunicazione.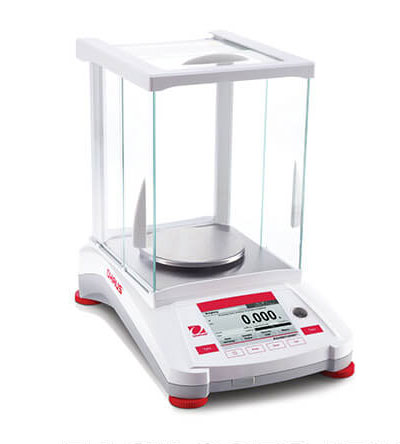 Bilance intuitive progettate per una varietà di esigenze
Raggiungendo l'equilibrio ideale tra caratteristiche inventive e capacità di pesata funzionali e semplici, la serie OHAUS Adventurer presenta tutte le applicazioni necessarie per la pesata di routine e le attività di misura. Dotata di un touchscreen a colori, funzioni di conformità a GLP/GMP, due porte USB e molto altro ancora, Adventurer è la bilancia più completa della sua categoria.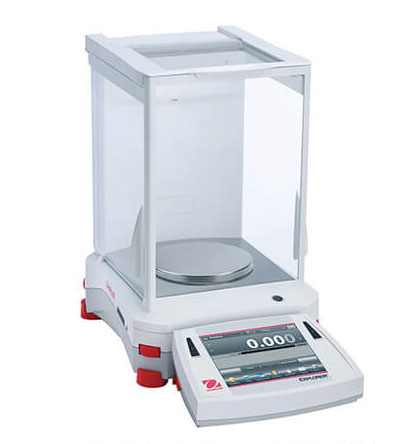 Le bilance di punta di OHAUS
Le bilance analitiche della serie Explorer di OHAUS Explorer coniugano funzionalità innovative ed elementi di design per offrire performance ineguagliabili in una linea di bilance a elevate prestazioni uniche sul mercato. Si tratta di bilance intelligenti e intuitive, completate da una serie di funzionalità innovative che semplificano anche le misurazioni di laboratorio più complesse.